One of the most common enquiries received by our welding specialists is, "what flow rate should I use?". Welding gas flow rate is measured in litres per minute (lpm) and is set by the regulator. In this article we will look at how to determine the ideal welding gas flow rate. However, to start, let's revisit the role of welding gas.
The Role of Welding Gas
The role of welding gas is to prevent defects occurring in the weld by ensuring contamination from the surrounding air cannot enter the weld pool. The correct choice of welding gas for a given application is crucial for consistent quality weld. It is widely understood that there must be a minimal flow rate to ensure adequate pool protection, but we often see customers using excessive gas which negatively impacts both weld quality and costs.
Choosing the Correct Gas Flow Rate
Another factor to consider when selecting your welding gas supply is the workspace. What available space is there around the welding area? Where will you store both full and empty cylinders? Will you be welding at height in a confined space or off-site? All of these things will impact the size of welding gas cylinder that you are able to use without impacting either safety or productivity.
Many factors determine the optimum welding gas flow rate. The following information is intended as a guide to help you select the correct flow to use. Things to consider:
Material being welded (for example: carbon steel, stainless steel or aluminium)
Welding process
Current (A)
Weld position
Metal transfer type (for example: short arc, pulse or spray)
MIG/MAG welding
The table below shows that gas flow rate varies for MIG/MAG welding depending on the material being welded - with aluminium requiring the highest flow rates and carbon steel the lowest. The other variable that determines flow rate is current. As current increases so does the required flow rate.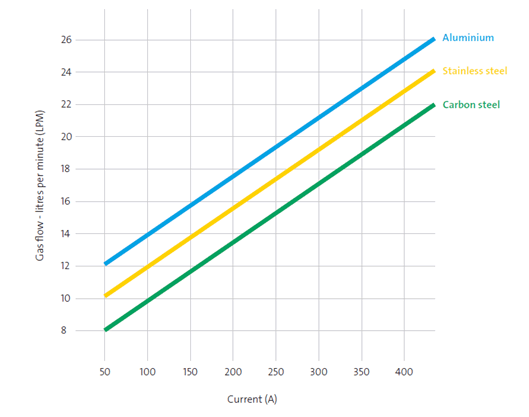 TIG welding
Plate thickness and amperage are the two key variables that determine gas flow rate when TIG welding. The table below shows for carbon steel and stainless steel that flow rate increases as both variables increase. The table also helps to determine the diameter of rod and TIG electrode to be used.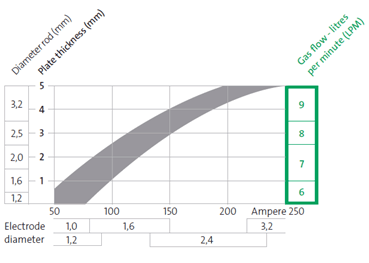 This table provides the data for TIG welding aluminium.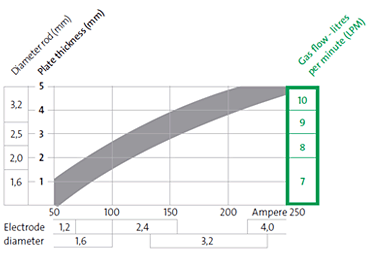 Other Considerations
Material thickness, welding position and working environment are other factors that impact gas flow rate. Thicker materials often require higher gas flow rates. More challenging welding positions, such as overhead, also require higher flow rates. Equally, outdoor or draughty environments will need higher flow rates to ensure adequate protection from the turbulence created by the wind. The table below pulls all these variables together for MIG/MAG welding to provide target gas flow rates.