Once you've worked out the best shielding gas for your welding task, the next most frequently asked question we receive is "which size bottle should I choose"?
With such a vast choice on the market, and each supplier using different names and terminology, it can seem confusing. However, in reality, the range is similar whoever you purchase your gas from.
Factors to consider include:
volume of welding
frequency of welding
welding flow rate
welding location
available floorspace
Enough Gas to Complete the Job
Ideally, you want a welding gas cylinder that has enough gas for you to complete your task uninterrupted. One way to look at this is to calculate your welding time.
---
welding time (hours) = litre cylinder contents (converted from m3)/ flow rate (litres per minute)
_______________________
60
---
The welding time results is actual on-arc welding and it doesn't include the preparation time for a job. As a broad rule of thumb, 10 m3 equals 11 hours welding.
Working Environment
Another factor to consider when selecting your welding gas supply is the workspace. What available space is there around the welding area? Where will you store both full and empty cylinders? Will you be welding at height in a confined space or off-site? All of these things will impact the size of welding gas cylinder that you are able to use without impacting either safety or productivity.
Cylinder Size Range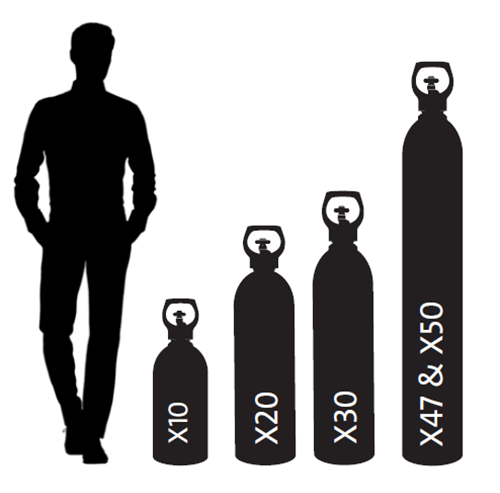 Air Products offers a complete range of welding gas cylinders ranging from 10 litre (X10S) portable cylinders, ideal for mobile welding activities, through to 47 litre 300 bar high-capacity cylinders (X47S). Our high-performing Maxx® welding gases are available in every size to provide the maximum choice and convenience.
Under Pressure
Traditionally, welding gas cylinders are tall, bulky and heavy.  With an average height of 1.5m and an average weight of 85kg they can be extremely difficult to lift and manoeuvre onto the back of the welding machine.
Therefore, it's important not to choose your welding gas cylinder purely on size. Air Products' welding and cutting gases are available in the Integra® cylinder format.  Compressed at 300 bar pressure, the 30 litre Integra® cylinder is 29% shorter and 23% lighter than the 200 bar 47 litre equivalents whilst lasting almost as long.  This means that the cylinders are easier to handle, the risk of toppling is reduced and there is no increase in the number of cylinder changeovers required per shift.  Furthermore, the quick-connecting Integra® Flow Optimiser (IFO) connects the Integra® welding gas cylinder to the welding set-up in a fraction of the time than conventional cylinders. There is no need to attach a regulator, as it is integrated into the cylinder head.
Final Considerations
Remember – choosing the correct gas is important to ensure optimal weld quality. Choosing the correct size bottle will help to keep costs down as well as provide productivity benefits. However, the most important factor with welding is always safety. Buy from a reputable supplier, ensure all equipment is inspected and fit for use. Also ensure that all PPE requirements and safe working practices are adhered to. There is nothing more important than safety.
---
To discuss our range of welding gases please contact us using the form below. Alternatively, click here to buy.